You know how you can take months (even years) to struggle through an issue, unable to move on or let go or make a decision or whatever the problem is, and then in one moment, the angst is sloughed away? I had that experience recently.
A friend was giving the children's message at church to illustrate  Jesus' interaction with the rich young man who wanted to know whether he was doing all he could to get into the kingdom. Jesus loves him — this is an important part of the verse, I think, and one we don't often focus on, "Jesus looked at him and loved him" (Mark 10:21). Jesus loves him and, in a glance, knows him, and knows that he has a problem with the love of money of which he needs to let go.
The children's message involved a raccoon and a jar.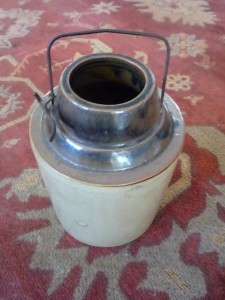 He explained that raccoons love shiny things, and if they spy a shiny object at the bottom of a jar, they'll stick their paw in and grab it.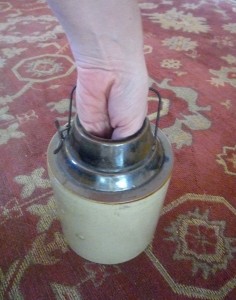 But then, sometimes, the neck of the jar will be too small and they can't get their clenched fist out. They don't want to give up the shiny item, so they don't unclench their fist — and they're stuck. All they have to do is let go of the shiny item, and they're free.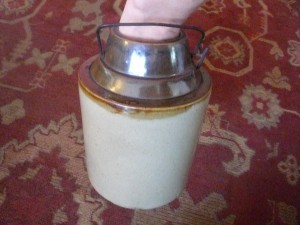 But they don't.
This was me. I mean, the photo is of my hand and my jar, but also, in broader areas of my life, I was clenching something tight in my fist and I wouldn't let go. I was good and stuck. The thing I was holding: the desire to place my novelization of the story of David and Saul with a conventional publisher. Or with an agent who would then find said publisher.
Some of this desire was practical. It's a novel for young adults, and (as of this writing) they read paper books more than e-books. In addition, being traditionally published can put you in libraries (both school and public), which are a major discovery tool for kids. Besides, lurking around inside me, still, is the girl who wants the gold star: "I've done something good — now acknowledge me!" Traditional publication would be a great big gold star.
And then it didn't happen.
At first, I looked deeper into the story (after whining for a bit), and discovered some holes that needed filling. So I filled them. Still…crickets. While I'm the good student who wants the gold star, I'm also the daughter of an entrepreneur and do-it-yourselfer (long before that term even existed). I read James Altucher's blog, who's such a believer in the idea that he titled a book, Choose Yourself. I've been following news about self-publishing for years.
I wasn't ready. I put off every decision deadline I gave myself, still holding out for that one more chance. Stuck. Unable to get any traction on revising the next book in my stuckness.
Until that children's message.
I opened my clenched fist and decided to self-publish. Like so many big decisions, there were no fireworks or giant resolutions. Just a quiet, calm, "yes." Since then, I found an editor who doesn't know me and sent her the manuscript; as an editor, myself, I know the value of an outside eye. I'll start talking to cover designers soon (one lives a block away from me). A Calvin Seminary Old Testament professor recently joined my church, so I'll ask her to look it over (for an honorarium, of course) to make sure I haven't gotten any of the cultural stuff wrong. I've booked a room in Alexandria, VA for 6 days while my daughter is at a youth conference there, to take a writer's retreat and get cracking on Book 2 — the best advertisement for your first e-book is your second e-book, so I'd like it to come out about 3 months after the first one. That's my list so far.
Even my fortune cookie agrees. Here's this evening's widsom: You create your own stage and your audience is waiting!
Do you have any advice for me? Any areas you've come unstuck from recently? Any areas in which you're stuck?
---